Do you want to get stronger, have less pain and keep moving?

Water exercise classes are a great low impact activity to keep you healthy and fit, all in a safe and gentle enviroment for exercise . Being led by qualified instructors, you are in great hands. Suitable for all fitness levels and all water confidences.

Our classes are run daily at 11am (see timetable) so you can find a class that suits you.
Great for people with arthritis, muscle pain and injuries, recent joint replacements e.g hips & knees and other mobility restrictions
Increasing Heart and Lung fitness
Resistance training
Muscle strengthening
Burning calories and weight loss
Injury rehabilitation
Increasing flexibility to stiff joints

Don't know how to swim? Thats OK! Most exercises are done standing and can be done holding onto our grab rails.

Adapting the intensity of the exercises is easy and you are in control of how hard you go.
AQUA ZUMBA IS ON HOLD WHILST THE INSTRUCTOR, ERIN, IS ON MATERNITY LEAVE. KEEP CHECKING BACK TO SEE WHEN IT WILL RE-COMMENCE.
AND NOW Aqua Zumba® has come to Hydroworks!
Just Add Water And Shake.
Splash your way into shape with an invigorating low-impact aquatic exercise. Known as the Zumba® "pool party," the Aqua Zumba program gives new meaning to the idea of a refreshing workout. Integrating the Zumba® philosophy with traditional aquatic fitness disciplines, Aqua Zumba® blends it all together into workout that's cardio-conditioning, body-toning, and most of all, exhilarating beyond belief.
Zumba® classes feature exotic rhythms set to high-energy Latin and international beats. Before you know it, you'll be getting fit and your energy levels will be soaring! It's easy to do, effective and totally exhilarating.
DID YOU KNOW?
Exercising in water is documented to be a high calorie burning activity, plus it is gentle on your muscles and joints. Additionally, water activities exercise the whole body – the legs, stomach, arms and back. Water creates resistance with all movements which allows you to achieve results with less effort compared to the land option. I.e walking, running etc.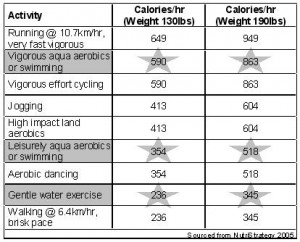 Call us now to reserve your spot today!